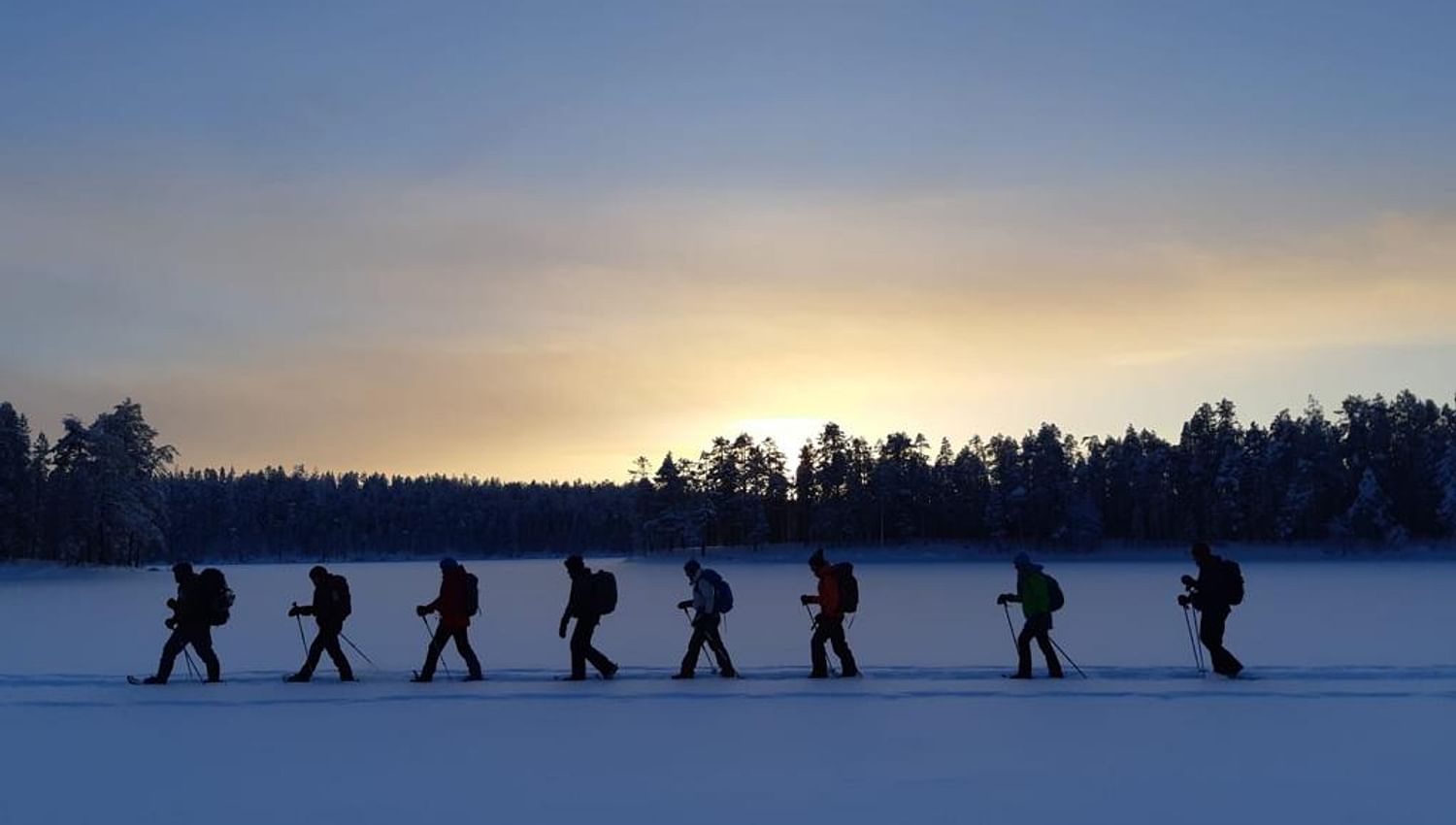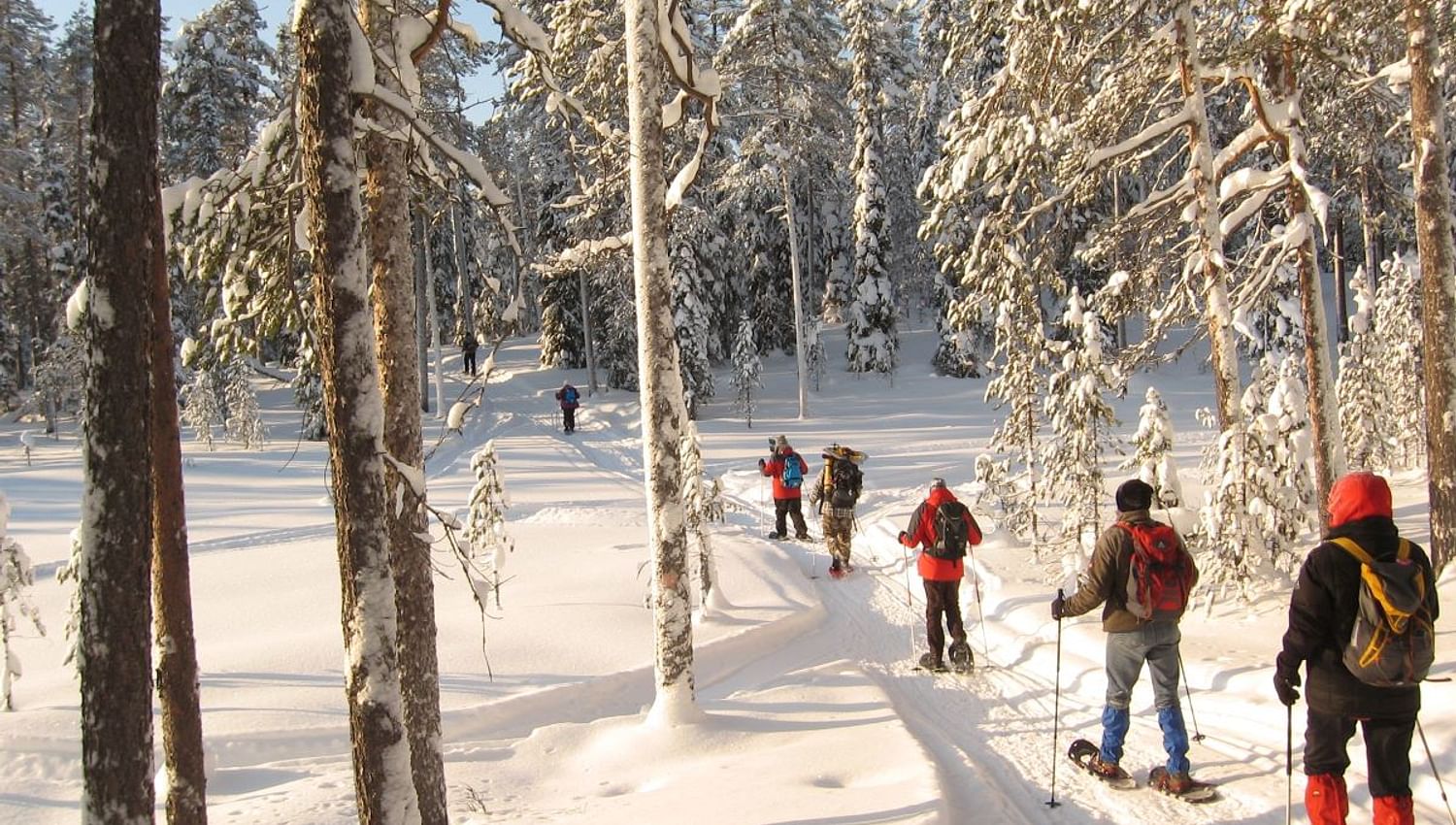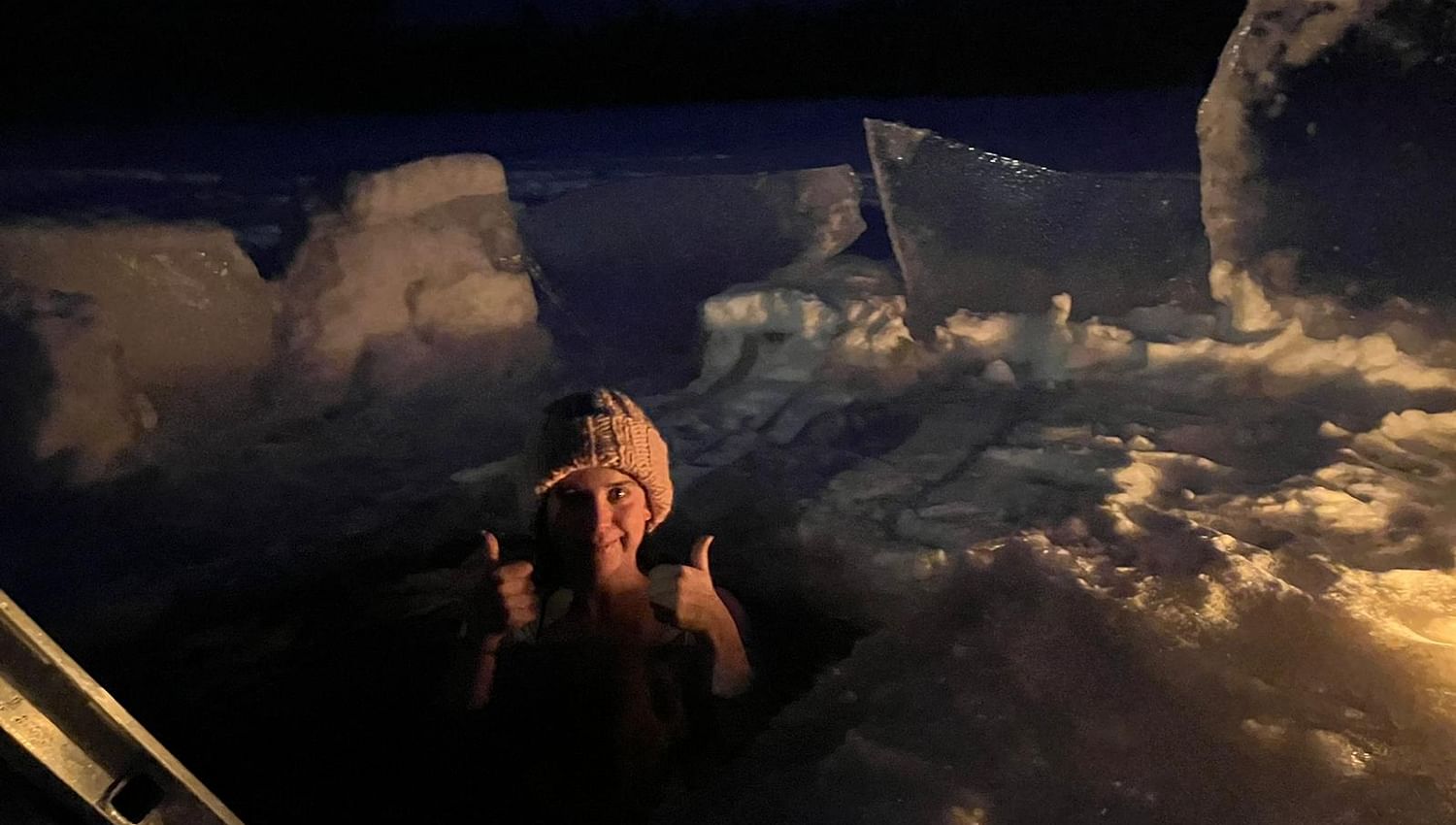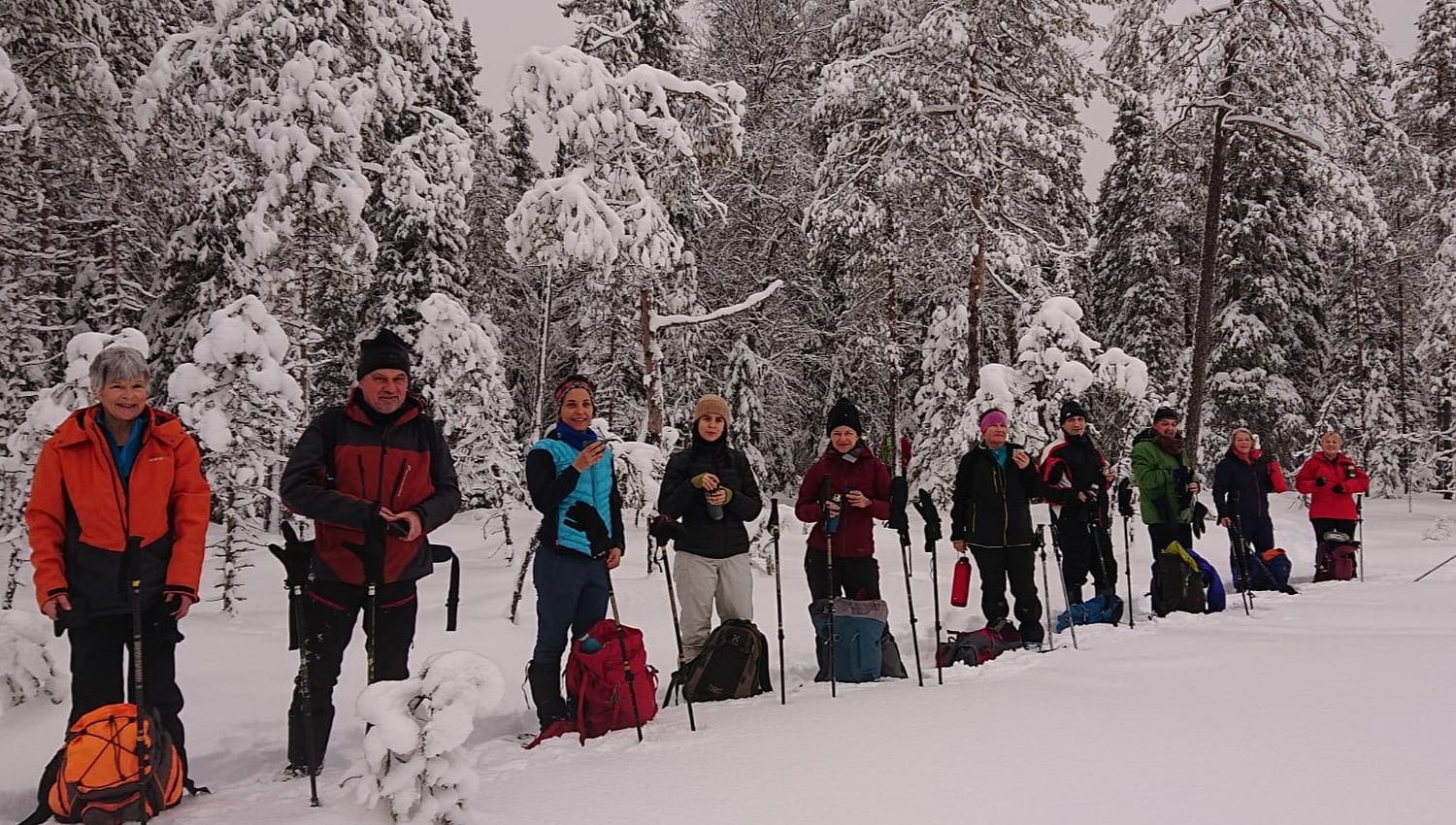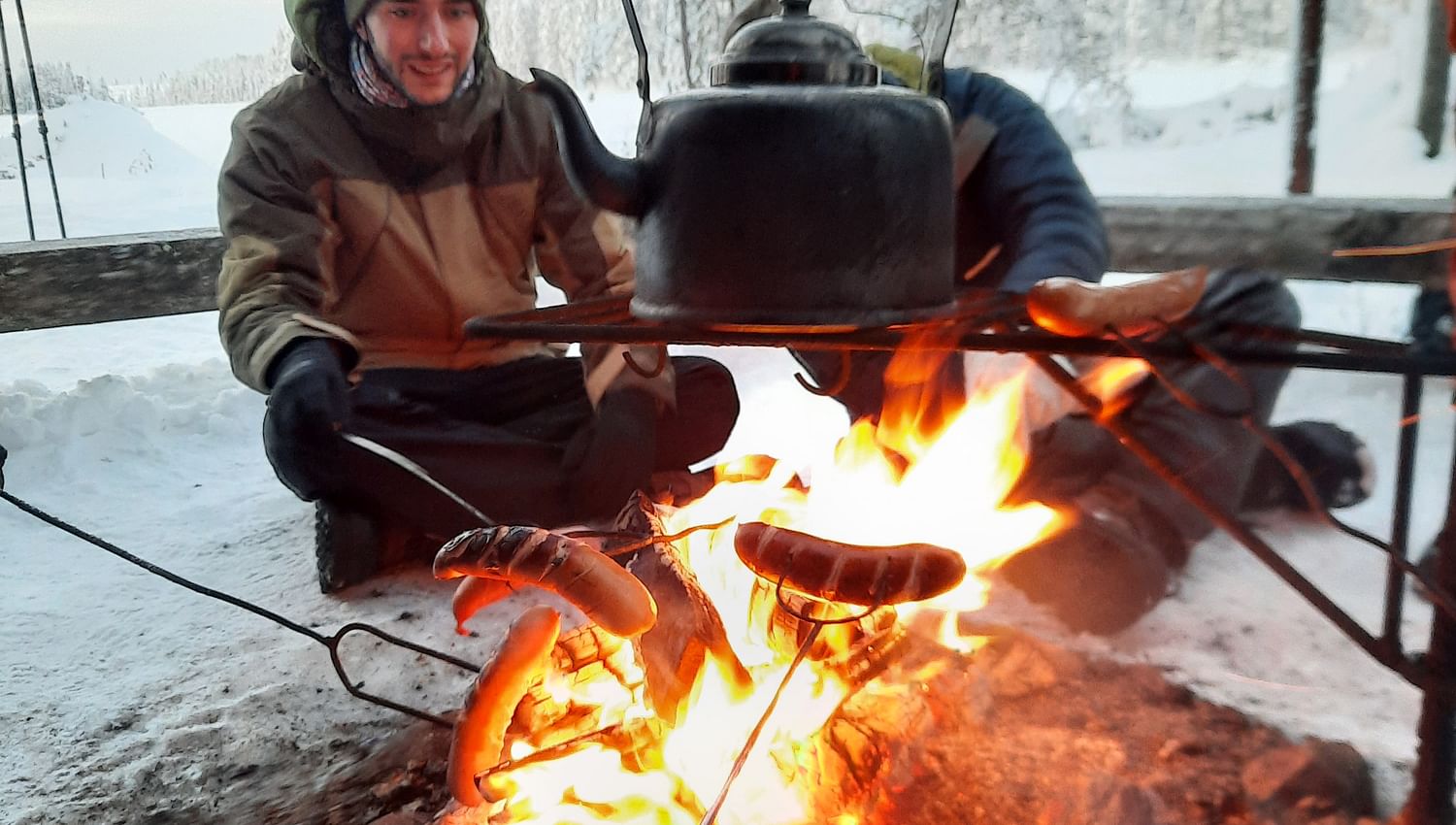 Off the Trails
On this snowshoeing tour you will get to explore the wild taiga of eastern Finland. This remote area is the absolute perfect place to enjoy the peace of nature. Our route is mostly in Hossa national park through the snow white forests, along ridges and over frozen lakes. Each night your accommodation will be wooden cabins, some of them without modern facilities but all have a cosy atmosphere. Each day we will be snowshoeing for approximately six hours through terrain with many short ascents and descents.

Tour highlights:
• Beautiful winter landscapes
• Overnights in wilderness huts
• Picnics around an open fire
• Evening saunas with ice-swimming
• Pristine wilderness and remoteness
What's included?
Accommodation: Days 1-3 and 6 in a log cabin in rooms for 2–4 persons, showers and toilets on the corridor. Days 4 and 5 in wilderness huts without electricity (mostly dormitory type)

6 x breakfast, 4 x outdoor lunch, 1 x lunch, 6 x dinner (on arrival night evening snack on late arrival)

English speaking guiding

Single-timed airport transfers 

Luggage transportation between the accommodations

5 x evening sauna, 3 x possibility for ice-swimming

Bed linen and bath towels

Sleeping bags and mummy liners (2 nights)
Detailed program
Day 1 Arrival
Arrival at Kuusamo airport and transfer (approx. 1 hour) to Hossa where we will stay in Jatkonsalmi cabin for first three nights. The cabin is situated on the shore of Lake Jatkonjärvi in an isolated spot in the heart of Hossa national park.

Day 2 Lounatkoski rapids
Breakfast and introduction to the week's programme. Then, after a brief preparatory session on snowshoeing technique it is time to set off for the first day trip which takes us to Lounatkoski rapids. In the past the fastest flowing rapids in Hossa provived hydropower. You can visit a mill that was used for grinding grain. There are also some constructions related to timber-floating. We'll enjoy a picnic around an open fire next to the rapids and then snowshoe back to the cabin across Jatkonvaara-hill. In the evening it is nice to relax and warm oneself in the lakeside sauna. Those who want, can also try ice-swimming – breath slowly out and dip yourself into the hole in the ice!
Snowshoeing 7 km, 6 hours

Day 3 Rock paintings
Today it is time to take a glance at the history. We will first take a short car transfer and then snowshoe to the Colour Rock to see its' rock paintings dating back to 4000 years. The picnic lunch will be near the paintings site around an open fire - hot soup and sandwiches and coffee brewed in a big pot on the fire. In the afternoon we will return to the cabin to spend one more night there before our "wilderness expedition".
Snowshoeing 7 km, 6 hours

Day 4 Snow white forests, Jatkonsalmi – Huosiusjärvi/Iikoski
This morning we leave our basecamp and head to the wilderness cabins where we will spend the next two nights. The route goes along the top of a ridge between two frozen lakes and through the beautiful snow covered pine, spruce and birch forests. Following ridges we will reach the Hossa Visitor Centre where we will have lunch and there is a chance to visit a small souvenir shop. In the afternoon we will arrive at the cabins called Huosiusjärvi and Iikoski situated 200 metres apart from each other near the river Iikoski. Snowshoeing 5 km, 5 hours

Day 5 Ridges and lakes, Huosiusjärvi/Iikoski – Peurapirtti/Hirvastupa
After breakfast we will snowshoe along the ridges and on the lakes. Here it is more likely we will meet reindeer than other people! The surrounding forests are home also to many other animals like elks, wolfs, lynxes and hares but unfortunately they are seldom seen. Halfway we will enjoy the picnic lunch around an open fire at a lean-to-shelter situated near a rapid. After 8 km on snowshoes we will reach the northern shore of the lake Iso-Valkeinen and the cabins where we will stay for the night. Snowshoeing 8 km, 7 hours

Day 6 Back to the basecamp, Peurapirtti/Hirvastupa – Jatkonsalmi
The last day of snowshoeing takes us back to the start point. Our snowshoeing tour will be finish at our base camp. Here we can have a final sauna, maybe with ice-swimming and then enjoy our last night together over a farewell dinner. Snowshoeing 7 km, 6 hours.

Day 7 Return
Breakfast and transfer to Kuusamo airport.

Good to know
DURATION
7 days / 6 nights

GUARANTEED DEPARTURES
28.01.–03.02.2024
04.02.–10.02.2024
11.02.–17.02.2024
18.02.–24.02.2024
25.02.–02.03.2024
03.03.–09.03.2024
10.03.–16.03.2024
Other departures for groups on request. Season 15 January - 31 March.

PRICE
1000 € p/p
Optional extras:
Rental of snowshoes and poles 40 €
Rental of winter boots 20 €

GROUP SIZE
Guaranteed departures without minimum number of participants. Max. 12 persons.

LEVEL OF DIFFICULTY
On this tour the daily treks take approx. 5–6 hours and the average speed is about one km per hour. In late January–early March the depth of the snow is normally 60–80 cm and you will usually walk in soft snow which makes the walking slow and strenuous. If the track is harder it is possible to walk 3–4 km in an hour, in that case extra kilometers can be walked to make the duration longer. The duration includes also a lunch break which is about 1-1,5 hours. 
The terrain is quite variable with many short up- and down hills. The route goes in the forests, along the ridges and on the lakes. The difficulty of the tour is easy – moderate, depending greatly on the snow conditions. Beginners are welcome, but a reasonable level of fitness is required.
See rough route map here.

ACCOMMODATION
Days 1–3 and 6: Accommodation in a log cabin mostly on twin and triple sharing basis. Solo travellers will be placed with 1-2 fellow travellers of the same gender. For couples a private twin room is booked. It is not possible to book a single room. Toilets and showers are located on the corridor.
Days 4 and 5: Accommodation in wilderness cabins without electricity. Mostly dormitory type accommodation is available. Sauna (no shower) and compost toilet outdoors. 

TRAVEL
Flights are not included in the tour price. If you have anything unclear regarding flights or transfers, please do check with us before booking flights! 

Important notes for arrival
The joining point for this trip is Kuusamo airport. Single-timed group transfer from Kuusamo airport to the first accommodation is organized to coincide with this Finnair flight from Helsinki:
HEL-KAO AY497 (arrival at 17.00-18.00).
Transfer from the flight AY487 (at 21.00-22.00) available with supplement.

Note: If you miss the scheduled group transfer on arrival and an extra transfer must be arranged to the starting point of the trip, the costs must be covered by you. To avoid this unpleasant situation it's not recommended to book flights with short connection time (less than 1 hour).

Important notes for return
Transfers from the last accommodation to Kuusamo airport are organized to coincide with this Finnair flight to Helsinki:
KAO-HEL AY486 (departure at 13.30-14.30) except on 17.02. transfer to the flight AY484 at 11.10.  
If you take a later flight or stay extra nights in Kuusamo, the drop off at Kuusamo town centre is available on prior request.

Travel by bus/train
It is possible take a train from Helsinki to Oulu and then a bus from Oulu to Kuusamo. The schedule must coincide with above mentioned transfer schedule.

PAYMENT
Deposit: 15 % of total amount will be charged at the time of booking.
Full payment: Due 14 days before the departure. The invoice for full payment will be sent by email. 

NOTES
It is essential that a passenger is covered by adequate travel insurance.
The tour is not suitable for persons with reduced mobility.   
We reserve all the rights to change the itinerary (route, accommodation) if necessary due to snow or ice conditions and in case the group size is max. 3 persons.
What do I need to bring?
outdoor equipment

leisure time clothing

rucksack (15-20 l)

thermos flask

head lamp / torch

snowshoes and poles 

warm winter boots 
The full gear list will be sent after booking. 
Reviews
2023
A fantastic trip with fantastic guiding. Accommodation was excellent, including the cabins used on the wilderness overnight stays away from the main base. Food was excellent and always more than enough. It may be cold outside, but always warm inside. Would not hesitate in recommending Upitrek to friends and would be very happy to repeat the experience or try another Upitrek trip. Many thanks! Richard and Rosemarie, UK
I think we had the best guide of the Northern Hemisphere, the Southern I don't know! Erich, Austria
This was a fantastic experience. I have been to the Arctic and Lapland previously, normally dog sledding, but would certainly considered returning to the Hossa National Park for further snow shoeing with you, especially if Petri was our guide and mentor. Loved the background information with respect to the myths and legends that were provided.
2020
This guided snowshoeing tour was one of the best things I have done in my life. The daily treks through snowy woods, the lunches each day around an open fire, the info and stories our guide shared with us, the saunas each night. These are things I will take with me and remember forever. The food was hearty and delicious. The cabins for clean and comfortable. Our guide was very knowledgeable. We learned about "Sisu", the spirit of not giving up.  Jan,  Ireland
This was my second time here, which is always a risk. But it was just as great as the first time. The location, the hospitality and the knowledge are first rate. It was a great hike, awesome scenery and a jump in the ice hole is a must. I can recommend this trip to anyone who likes outdoor life.
You can be cold and still enjoy yourself. Finnish sauna is a special experience, especially with a wood-burning stove in a wilderness cabin. Everyone should try sauna and ice swim! Hossa was beautiful and peaceful. It was wonderful to have the place to ourselves, felt like no one else was there. The cabins were terrific. Our guide as good company and so knowledgeable about Finland, its flora, fauna, culture and history. His humour and good nature made this trip very enjoyable & memorable. June, UK
This was my first winter snow holiday and my first time in Finland and in sauna! I could not have asked for a more enjoyable experience, thanks to the wonderful surroundings and the guide who inspired this novice to convert in Finnish nationality! Luke, UK
I didn't really know what to expect as most of my experience has been of mountains and deserts and other spectacular places. I was worried I would find the forest less so. In fact, although different was the equal of the other places due to its' intimacy and quietude. I would like to come back in a different season. Thanks to all. Steve, UK
2019
It is difficult to resume in just few words, but I make it as short as I can. We had the best guides, brilliant weather, we saw Northern Lights on a frozen lake and they were amazing. Erika, Austria
Excellent experience. Unique combination of snowshoeing + sauna, comfort of luggage transfers + wilderness cabins. Thoroughly enjoyed the holiday! Thank you to all for making it a truly memorable holiday! Brigitte, UK
The landscape was breathtaking. Petri the guide an absolute hero. Great stories, incredible knowledge and great sense of humor. The simple life (chopping wood, making fire, preparing sauna, only candlelight, digging ice holes and washing with water heated by the sauna) was humbling.
The snowshoeing tour was an unforgettable experience: the cold, magical snow landscapes and a very professional guide! Ann, Belgium
Se volete silenzio, natura, tutte le sfumature del bianco e le mille gradazioni della luce, questo è il posto giusto. La sauna, il buon cibo e un sonno profondo sono il contorno perfetto!
2017
Before coming on this trip I was very nervous, I was worried about travelling alone, about being with other people of different nationalities and whether I would be able to snowshoe. All of my fears were completely unfounded. The people were all wonderful plus our group leader Petri made us all feel like family. All abilities were catered for and it was a wonderful experience. All my hopes were fulfilled and exceeded. I have had the time of my life that I will never forget. Also Finnish food is fantastic! Kiitos paljon! Beccy, UK
Un magnifique voyage dans les paysages et la culture finlandaises. Un grand merci! Stephan, Belgium
On this trip we had an impressive experience of the rough taiga, the animals which live in it and how the life used to be for people without electricity and running water. Very nice, quiet and serene landscapes with dark nights and snow white days. Aleida, Netherlands
The tour is ideal for nature lovers who want to experience the beauty of Finland in winter. The combination of snowshoeing and sauna in the late afternoon make a great winter vacation. And of course not to forget the delicious food during the entire tour. Ulrike, Austria
2016
This holiday exceeded our expectations. We walked over frozen lakes, through snowy forest whilst our excellent guide Markus showed us animal tracks and told us about the plants and trees. The outdoor lunches and fires, always in beautiful locations, were a highlight. We were even lucky enough to see the Aurora. I would recommend this holiday to anyone who wants some relaxed adventure as well as the opportunity to dip into an ice lake after sauna. Naomi and Reuben, UK
An excellent 5-day hiking trip. I really enjoyed the snowshoeing and the scenery. I had a very experienced guide who gave us a lot of interesting explanation about Finland, culture and nature. Thanks a lot! Male, The Netherlands
2015
This trip to Finland has proved even more perfect than we had hoped. Our guide has been an important part of this, in showing us the beautiful aspects of his country, explaining facts about it, attributing each track to an animal… We also enjoyed saunas, the life in cabins without electricity nor running water, as well as the long walks in the snow of course. It's going to be hard to leave. J.V., France
Thoroughly enjoyed the snowshoeing the scenery, Petri's great leadership, knowledge and timeless efforts to make it an enjoyable and safe trip. James, UK
-> 2014
I enjoyed the pristine wilderness and complete silence. The guide was so cheerful, knowledgeable and thoughtful. A complete break. Female, UK
Absolutely fantastic, relaxing holiday; a unique experience that will live long in the memory – thank you guides! Feel I've learned a lot about the heart of Finnish life. Female, UK
The tour was well organized and great fun from start to finish. It was unbelievably cold but that just made the saunas even better. The scenery was stunning but unfortunately no Northern Lights. Our guide was excellent, very well organized, patient and knowledgeable. Norman, Wales
This was a most wonderful trip, the scenery and environment was just stunning. What made is perfect was our fantastic guide, he was incredibly knowledgeable and so much fun. Would recommend this trip to everyone! Jane, England
Pristine landscape and extraordinary views. Our guide Petri was extremely knowledgeable. Wonderful trip – highly recommended. Female, Australia
This experience allows people of all abilities and with different aspects of life to be able to share a true wilderness experience in safety whilst still feeling at the edge of your own capabilities. Male, UK
The whole trip was excellent – this is the first time I have done anything like this and would definitely do something similar again. The whole experience has been fantastic with a fantastic variety of things to do to learn more about Finland. Female, UK
We had an amazing week. The weather was great, nice and skilled tour guides and a recommendation for anyone who wants to experience Finland from a winter point of view. Loved it and made me want to go back to Finland another time for sure! Robert, The Netherlands
The snow shoe experience in Finland was something I had looked forward to for some time. The location and scenery is just stunning and the guides Tumppi and Ute made sure we were all looked after. The terrain at times is challenging but more than possible. Make sure to follow the advice as to clothing for the trip. This will ensure you make a fantastic experience. Andy, England
The walking was spectacular, the pace was good and level of challenge was comfortable. The scenery was fantastic and different every day. The lodges were very comfortable and the sauna quite an experience especially when by candlelight. The cold was quite a challenge but once you get moving it became an insignificant issue. Emma, UK
We had an excellent trip made possible by our very helpful guide. The accommodation and food were first class especially wilderness cabins – even though temperatures were -30C! PD, UK
We came on the trip having had only a couple of hours experience snow walking. Everything was very well organized. We did a lot but were never hurried. The scenery was amazing and it showed us another way of life. We would recommend this trip to anyone. TN, Wales
Book Online