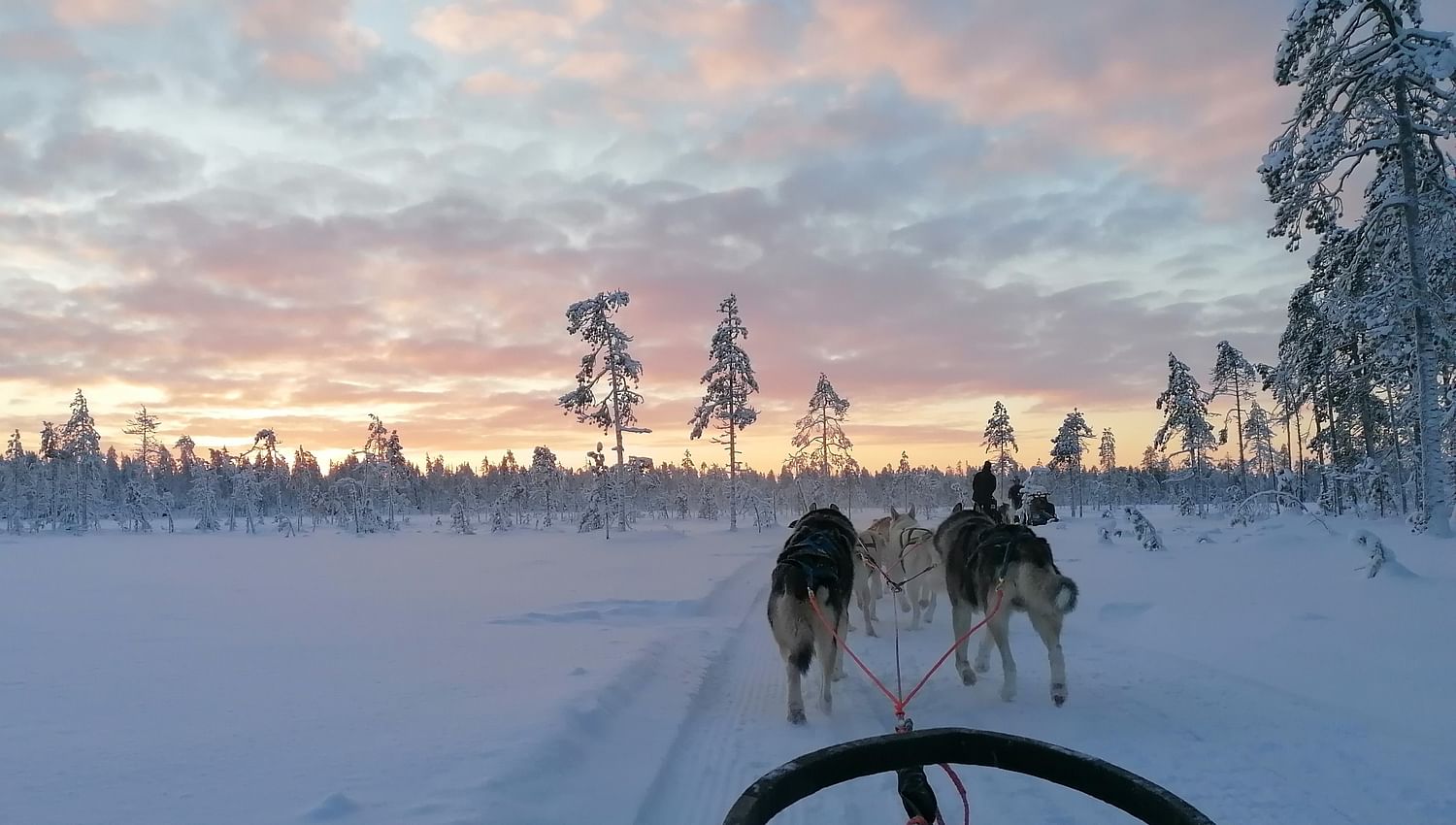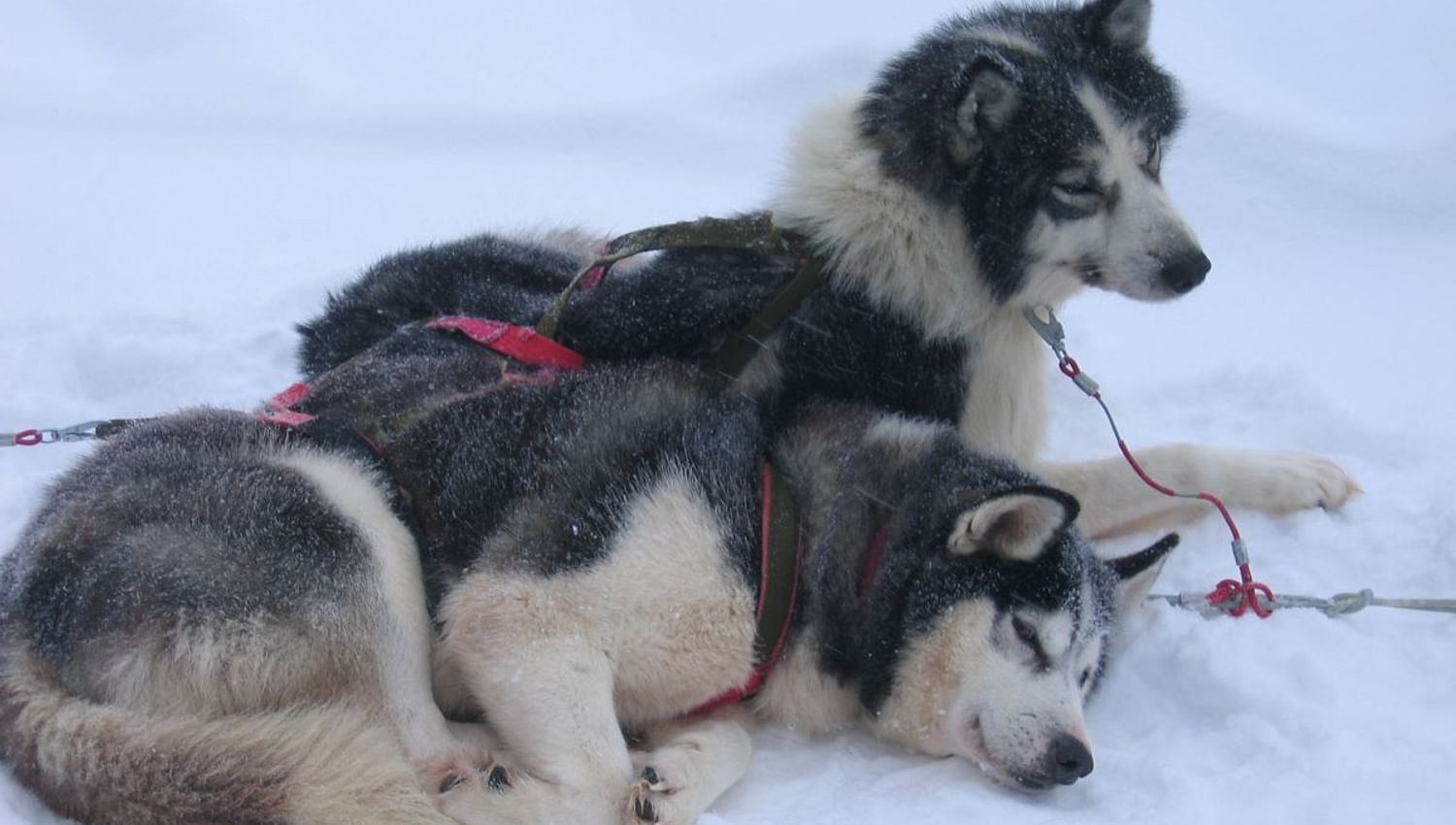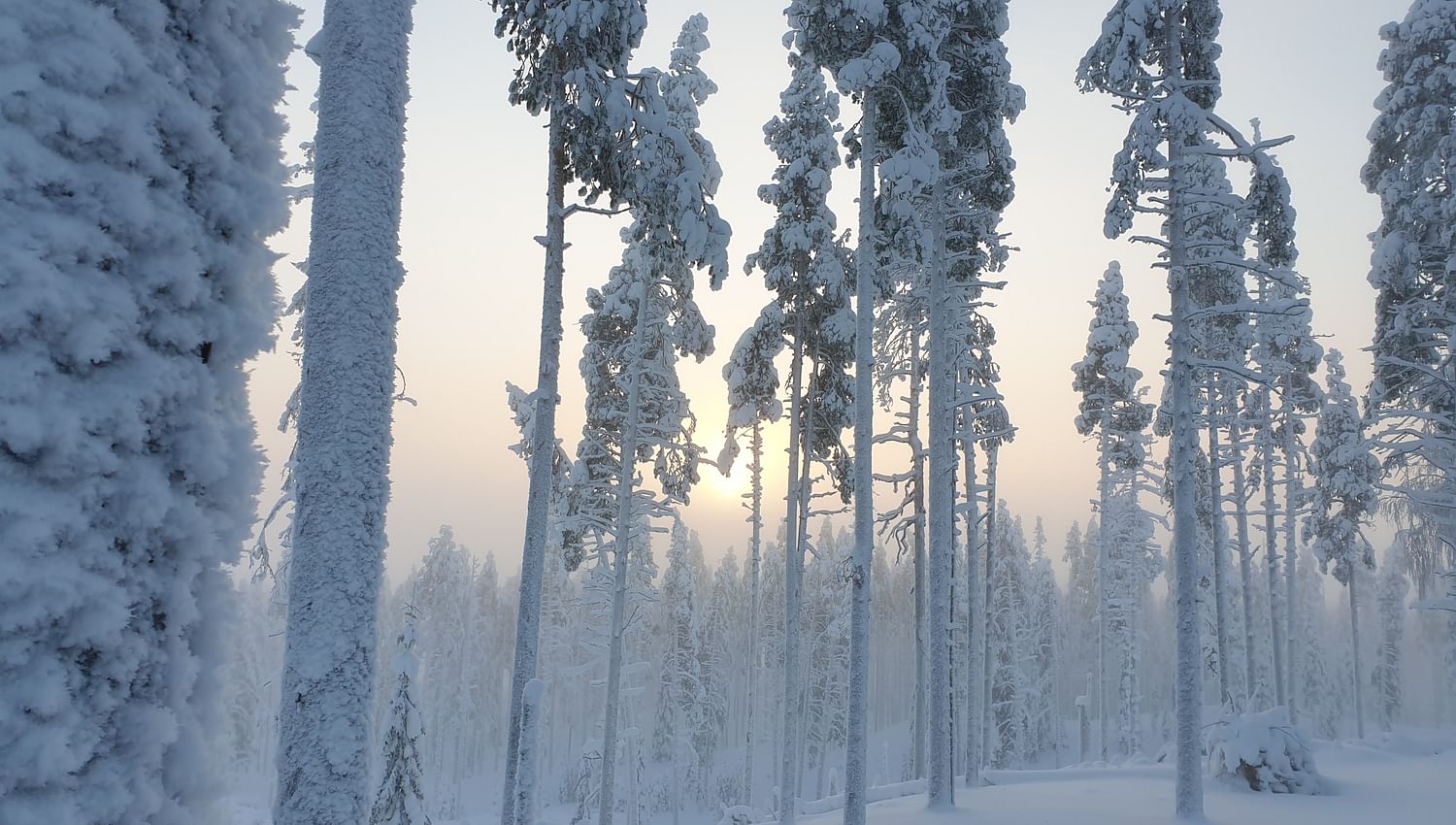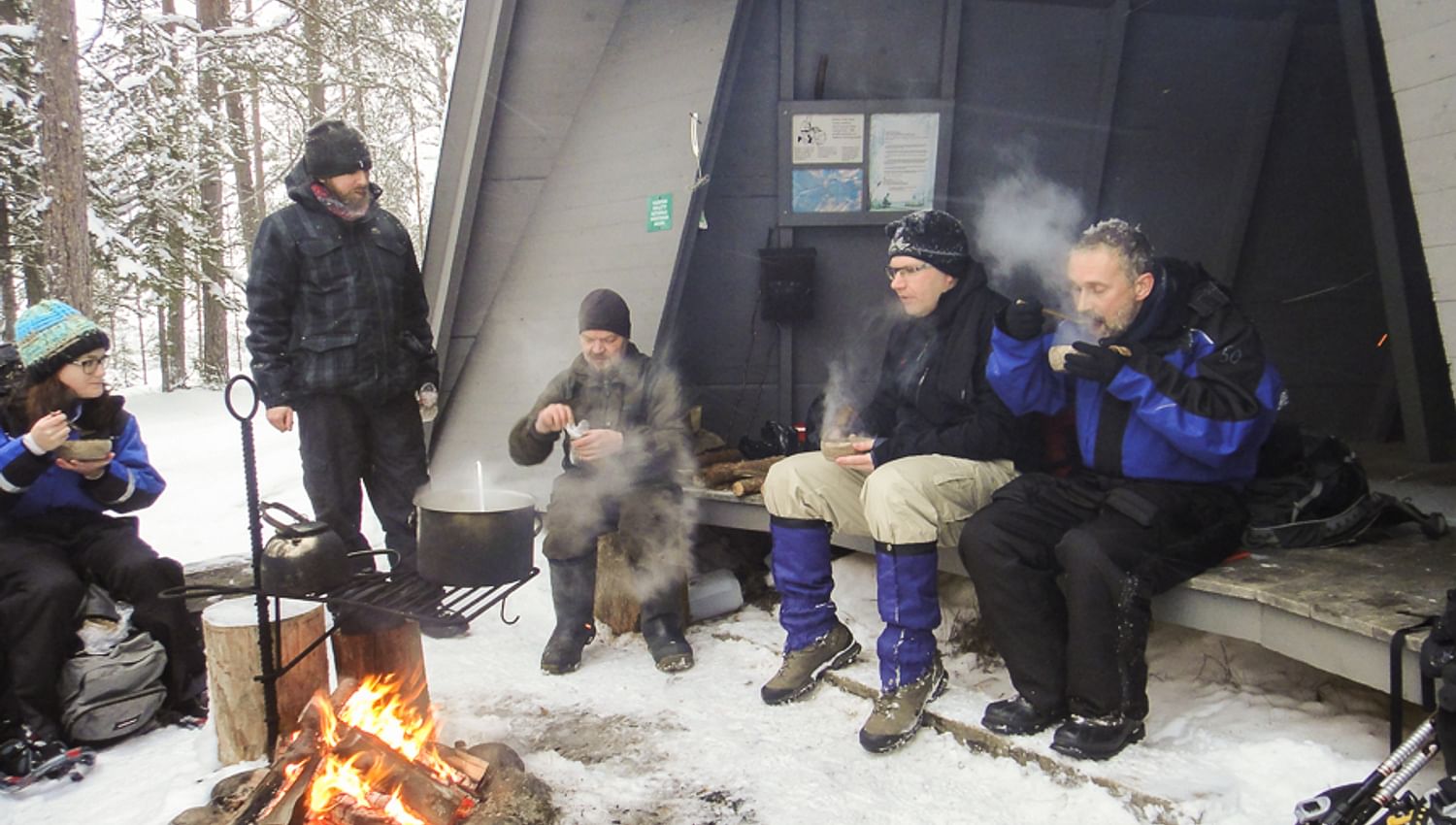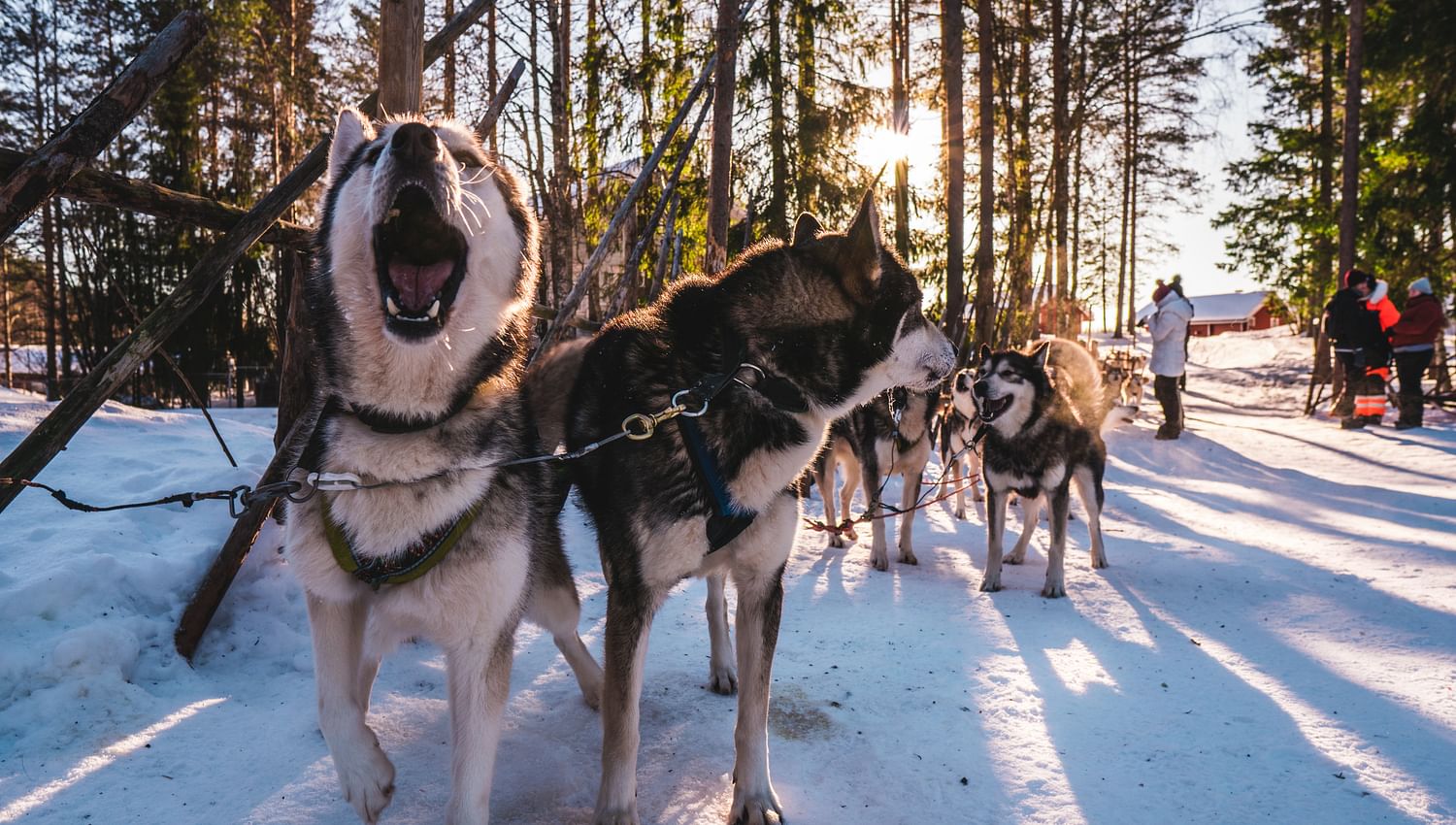 Wilderness Husky Adventure
Drive your own husky sled through the winter wonderland, while enjoying the silence and breathtaking landscapes! The highlight of this trip is overnighting in an original, rustic, wilderness cabin. 
What's included?
3 nights accommodation in guest house in twin or triple rooms with shared facilities

1 night accommodation in wilderness cabin

Full board (from dinner on arrival day until breakfast on return day)

Day at the husky farm including day safari

Overnight safari

Sauna daily

English speaking guide

Single-timed airport transfers (from and to Kuusamo airport)

Winter clothes hire (overall, boots, mittens, balaclava) 
Detailed program
Day 1 Arrival
Arrival at Kuusamo airport where your guide will welcome you. A 1 h 15 minutes' transfer to husky farm. Check-in, dinner and briefing about the upcoming programme.

Day 2 Husky farm and day safari
To start the week you are taken to the kennels to meet your dogs. You will be taught how to care for the husky teams and be given instructions on the equipment and how to drive the sled. After lunch, you will harness the dogs, split into teams and drive a nice, easy 10 km training trip. In the afternoon, you can relax or spend some time with the dogs and feed them. Husky sledding approx. 10 km.
Day 3 Overnight husky adventure 25-35 km
It's time for "the safari"! Your belongings will be packed onto your sledge and then you are ready to depart for an overnight tour into the wilderness. You will drive through old forests, over frozen lakes and swamps enjoying the exhilarating beauty and complete silence of the snow-covered nature that surrounds you. Lunch is at the halfway stage and served in front of an open fire. In the afternoon, you arrive at a cosy wilderness cabin located on a small river. There is no electricity or running water, but the cabin is heated by a wood-burning stove. Dinner will be prepared together in a tepee and enjoyed by candlelight. A sauna is heated and you can bathe and relax in its heat. What could feel better after a long day outdoors?

Day 4 Back to the husky farm 25-35 km
The final stage of this adventure takes you back to your starting point. Before that though, you will enjoy a full day of sledding and one more picnic lunch in front of an open fire. On arrival at the farm it's time to thank the dogs, feed and take care of them.
Day 5 Return
Breakfast and transfer to Kuusamo airport.

Good to know
DURATION
5 days / 4 nights

DEPARTURES
29.01.-02.02.2024
26.02.-01.03.2024
18.03.-22.03.2024
Other departures for groups on request. Season 20 Jan - 10 April.

PRICE
1620 € p/p

GROUP SIZE
To run a tour minimum two persons is required. Maximum group size is 6 persons.

HUSKY SLEDDING
*On husky safaris everybody drives an own dog team (3–6 dogs)
*No experience on dog sledding is necessary, but you should be reasonably fit, confident in your sense of balance, and able to cope with the cold and
long hours outside. 
*For the overnight safari you can take only small back bag (max. 40 l) with you in the sledge. The rest of the luggage will be left at the base camp.  

TRAVEL
Flights are not included in the tour price. If you have anything unclear regarding flights or transfers, please do check with us before booking flights!  

Important notes for arrival
The joining point for this trip is Kuusamo airport.
Single-timed group transfer from Kuusamo airport to the accommodation is organized to meet the following Finnair flight:
HEL-KAO AY487 (arrival around 21.45 pm)

Note: If you miss the scheduled group transfer on arrival and an extra transfer must be arranged to the starting point of the trip, the costs must be covered by you. To avoid this unpleasant situation it's not recommended to book flights with short connection time (less than 1 hour).

Important notes for return
On last day the single-timed group transfer is organized back to Kuusamo airport to coincide with this Finnair flight to Helsinki:
KAO-HEL AY482 (departure around 09.30 am)

If you take a later flight or stay extra nights in Kuusamo, the drop off at Kuusamo town centre is available on prior request.   

Travel by bus/train
It is possible to take a train from Helsinki to Oulu and then a bus from Oulu to Kuusamo.
The schedule must coincide with above mentioned transfer schedule.  

PAYMENT
Deposit: 15 % of total amount will be charged at the time of booking.
Full payment: Due 14 days before the departure. The invoice for full payment will be sent by email.  

NOTES
It is essential that a passenger is covered by adequate travel insurance.
The tour is not suitable for persons with reduced mobility.
We reserve all the rights to change the itinerary due to weather/snow conditions. 
What do I need to bring?
Leisure time clothing.
The full gear list will be sent after booking.
Book Online